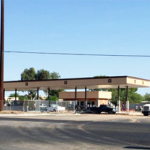 SAHUARITA, Arizona – The real estate market in Arizona is returning to healthy levels, and being echoed in Rancho Sahuarita master planned community; not just in terms of home sales and new home development, but also with regards to new retail and commercial offerings in the master plan.
"The Corner" in Rancho Sahuarita has the second gasoline provider coming to the community and there are several major new subdivision projects that kicked off recently for the next two neighborhoods: Entrada del Rio and Entrada la Villita.
Entrada La Villita is Spanish for "small town", La Villita is comprised of 71 homesites and is located southwest of the Rancho Sahuarita Clubhouse, which is the center of activity in the community. With its countless events, classes and opportunities for residents to come together and connect in Rancho Sahuarita.
The new neighborhood is also close to Sahuarita Road, making access to things like the Rancho Sahuarita Marketplace and the Sahuarita Town Center easy expected to open this Fall.
The second new neighborhood at Entrada Del Rio reflects the beauty and magic of its namesake; the river. Residents will find enjoyment and fun flowing through the nearby Parque Del Rio neighborhood amenity, complete with its own pool, spa, playground, sport courts and more. It's also close to linear parks, the famous Safari Trail, and Butterfly Garden. Plus, Rancho Sahuarita's two newest amenities, the Flamingo Splash Pad and Armed Forces Tribute, are literally in its back yard.
The 498-lots at Entrada Del Rio is planned to open in the Spring of 2018, with multiple builders anticipated throughout the neighborhood's many phases.
On the commercial side, back in February of this year Rancho Sahuarita XX LLC closed on the sale of a commercial pad to Fry's Food Stores, which has resulted in the construction of a Fry's gas canopy at "The Corner" in Rancho Sahuarita. The new canopy is the second gasoline provider in the community, which already has an existing Shell station onsite.
The commercial pad is one of six total at "The Corner" site. Rancho Sahuarita is actively talking to multiple groups about locating to any of the five remaining pads, and plans to announce additional new offerings are expected in the next few months.
Ted Herman with Sharpe & Associates, along with Dave Hammack and Brenna Lacey of Volk Company in Tucson are handling the additional pad sales.
Herman can be reached at 520.299.8766 while Hammack and Lacey can be contacted at 520.326.3200.