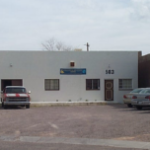 This article has been archived, please login for access or subscribe now for a free trial.
Fair Wheel Bikes of Tucson (Ralph Phillips, owner) purchased the 3,479 sq. ft. warehouse building at 503 South Park Avenue in Tucson from KMS Enterprises, LLC of Tucson (Kyle Mokhtarian and Matthew Skidmore, members) for[mepr-show rules="58038"]$189,000 ($54 PSF) in an REO sale. The property was a former catering business that was taken back by the private lender in May, 2012. The commissary was vacant, with only walk-in cooler left in the building when it sold.
The property will be used for research and design while doubling the inventory space for Fair Wheel's web-based business that will move from 143 South Park Avenue to new location at the end of month.
Fair Wheel Bikes has been in Tucson for 40-years, making it the oldest cycle shop in Tucson. Specialized in high end and exotic road bikes through its internet department, it has a local bike shop presence at 1110 E 6th Street in Tucson. Located right off the University of Arizona campus, the company offers full sales, rental and service for all bicycle types, from the ubiquitous collegiate beach cruisers to 8-inch travel downhill bikes.
According to Phillips, "the internet business sells worldwide from Tucson and the new location offers expansion space for assembly and testing of products." Tucson has become a great destination for cycling and visiting riders appreciate the high-end exotic bikes with 29er hardtail and full suspension mountain bikes, and over a dozen medium to high end road bikes. "We have been offering something for everyone since the seventies," Phillips added.
Fair Wheel Bikes is also home to one of the top group rides in the country. The group ride, known as 'Tucson Shoot Out', starts on the University of Arizona's west side at University and Euclid. Bicycling Magazine has called it "one of the best training rides in the country". The 60-mile loop cuts south from Tucson into desolate, mountainous desert near the Tucson mountains and past the San Xavier Mission every Tuesday, Wednesday and Saturday.
For over a decade, the skilled mechanics at Fair Wheel Bikes have quietly assembled sensational one-off custom bicycles for customers all over the world. For those who've been paying attention, some of these builds occasionally show up on cycling news sites and trade publications. Yet for the most part, they fly under the radar, and may be better known to the world than in hometown Tucson. From insanely lightweight, minimalist road builds to technologically advanced concept mountain bikes, they've have their hands in just about everything to do with cycling.
"Using specialized knowledge, unique experience, and peripheral industry access, we can devise unique, eye-catching builds within a wide range of needs and budgets," says Phillips. "Frankly speaking, what we actually provide is an alternative to the big manufacturers' overpriced bicycles. Why drop your hard-earned cash on an off-the-shelf $15,000 "superbike" when you could spend less on something truly original and striking, built specifically for your needs with an optimal fit for your body dimensions?" Phillips continues, "Our collaboration with the industry's most reputable custom builders ensures smooth communication during the design phase and prompt delivery upon completion."
For more budget-minded consumers, there exists a plethora of semi-custom options; some of our partnered builders have begun offering stock options based on the popularity of their full custom framesets. "And though we pride ourselves on our access to exotic and hard-to-find components, not every Fair Wheel build is so equipped. We have equal experience with and access to more commonly available equipment for those who value ultra-durable and proven performance at a reasonable price point.," according to Phillips.
Brandon Rodgers, CCIM, Industrial Specialist with Cushman & Wakefield / Picor Commercial Real Estate Services in Tucson represented the seller. Steve Cohen and Russ Hall, SIOR, GSCS, Principals and Industrial Specialists with Cushman & Wakefield / Picor Commercial Real Estate Services in Tucson represented the buyer.
Phillips can be contacted at (520) 333-6326. Rodgers can be reached at (520) 546-2714, while Cohen is at (520) 546-2750 and Hall at (520) 546-2747.[/mepr-show]