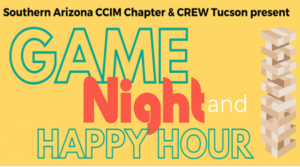 All proceeds from this Networking Game Night & Happy Hour to benefit Pima Foundation
Tucson, Arizona, October 28, 2022 - The Southern Arizona Chapter of CCIM, commercial real estate's global standard for professional achievement, is joining with CREW Tucson, one of the leading organizations for entry-level associates and senior-level executive women in the Tucson real estate field, to hold a Game Night and Happy Happy Hour next Thursday 3rd November, 2022, 4:00pm-7:00pm, at The L Offices 1860 E River Road, Suite 325, in Tucson.

The proceeds from this fun networking event will go to Pima Foundation in support of their ongoing campaign in Partnership with Connie J. Hillman Family Foundation.
Earlier this month Marcy Euler, Pima Foundation President gave a presentation at the Southern Arizona CCIM's monthly meeting explaining the Hillman Foundation's pledge of a one to two matching grant initiative over three years up to $5,000,000. This partnership is designed to have a transformative and indelible impression on the regional economy and the future workforce in Southern Arizona.
The Game Night and Happy Hour will be held at the L Offices on River Road. The L Offices, who have kindly donated their space to hold the event, offer professional and affordable private office and coworking spaces. The River office is their second location and has beautiful views of the Catalina Mountains and a Golf Simulator which will be available to use at the event! The event will be catered by locally owned Seis Kitchen and is open to members and non members.
Registration fee is $25 for SAZ CCIM Chapter and CREW Tucson Members and $35 for Guests. Register HERE.