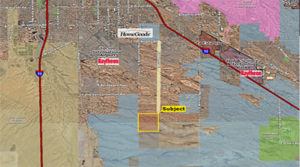 TUCSON, ARIZONA – Sunbelt Holdings had a record year in 2021 in a number of its Tucson master-planned communities, and that activity shows no signs of slowing in 2022. Sunbelt continues to be one of the largest developers in the Tucson metro region with active, record-breaking projects such as La Estancia, Star Valley, Red Rock Village, and Sycamore Canyon.
Lennar Arizona recently closed on 237 lots in Block J and Block N (60'X120' and 68'X120') at Sunbelt's Sycamore Canyon project in the Corona de Tucson area of Tucson. The lots back up to substantial open space and will feature wide ranging views. Construction on the lots will begin immediately.
In February, SBH Verano LP (Sunbelt Holdings) closed on approximately 700 acres for a new master-planned community, located near Tucson's airport area/I-10 corridor and major employment base. The project, named Verano, is zoned for approximately 2,200 residential units and is anticipated to have lots available for sale to builders in early 2024. The seller in that transaction was South Wilmot Land Investors, LLC (Diamond Ventures, Inc, David Goldstein, President).
"We are proud to add Verano to our existing collection of Tucson master-planned communities," said Greg Mohl, Vice President of Sunbelt Holdings. "Since entering the southwest submarket in 2015, our team has not only been focused on creating meaningful value at each of our properties, but proactive in delivering lots to homebuilders to meet the demands of the market. The addition of Lennar at Sycamore Canyon, and the acquisition of the Verano master-planned community further demonstrates our commitment to the Tucson market and homebuilders."
Sunbelt has emerged as an efficient supplier of lots to Tucson's homebuilders in a number of master-planned communities in the greater Tucson metro area. Sunbelt Holdings is well-positioned in Tucson, where large land holdings and infrastructure come at a premium. All-in-all, the company has acquired projects that will allow it to deliver between 7,000 and 10,000 lots to Tucson homebuilders over the next several years, which should make a meaningful impact in a market that expects to need upwards of 20,000 lots over the next 48 months alone.
Both transactions were handled by Will White and John Carroll of Land Advisors Organization -Tucson. Land Advisors has the marketing assignment for lot sales at Verano.
Will White with Land Advisors -Tucson said, "Tucson's lot supply is getting tighter by the quarter. Sunbelt Holdings has stayed ahead of this by preparing new plats in their projects to meet the schedules of the area homebuilders. They also have identified new acquisitions around Tucson that will continue provide their homebuilder partners a solid pipeline for several years to come."
For more information White and Carroll should be reached at 520.514.7454.
To learn more, see RED Comps #9676 and #9678.