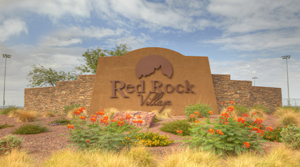 RED ROCK, ARIZONA — Sunbelt Holdings, a privately-held Scottsdale developer involved in some of metro Phoenix and Tucson's largest master-planned communities, purchased the remaining balance of the 1,000-acre Red Rock Village community, located north of Marana along Interstate 10 at the Red Rock interchange.
When fully developed, Red Rock Village will consist of 3,500 homes and supporting commercial uses. The community currently has all major infrastructure in place, along with various existing community amenities, and is home to Red Rock Elementary School, a K-8 school that opened in 2009.
The acquisition of Red Rock Village represents the fourth major investment by Sunbelt Holdings in the Tucson metro area. Sunbelt is currently active in Tucson with its 565-acre La Estancia community. La Estancia is one of Tucson's most successful master-planned communities, home to three of Tucson's largest homebuilders – Meritage Homes, Richmond American Homes and Lennar Homes. In addition, Sunbelt is preparing entitlements for the sale and construction of lots within its' 200-acre Sycamore Canyon and 525-acre Sendero Pass communities.
The transaction was handled by Will White and John Carroll of Land Advisors Organization in Tucson.
"In a market where affordability and land supply are under substantial pressure, Sunbelt Holdings continues to be proactive in sourcing and executing the best opportunities to deliver affordability with current lifestyle concepts to the region's homebuilders" said White.
"With this acquisition, Sunbelt Holdings has emerged as one of the top master-planned community developers in the Tucson area and with its current land inventory, looks to be a goto source for the area's homebuilders for many, many years. They have spent several years studying Tucson and have been very selective on acquiring projects that will fill specific needs of this unique market."
Sunbelt has initiated the design of additional lots within Red Rock Village and plans to have them available to market in mid-2019.
Sean Walters COO, and Bob Bambauer, Senior Vice President are the contacts for the Tucson projects. White and Carroll of Land Advisors Organization can be contacted about available lot inventory in the various communities.
Sunbelt Holdings has been a recognized leader in real estate development, management and investment throughout the Southwest since 1979. Over the years, the firm has gained an understanding of the area's unique characteristics that only time and experience can teach. Sunbelt entered the local market 38 years ago with a strong presence in commercial development and asset management. Early projects like the Phoenix Gateway Center remain successful icons. Recent acquisitions of turn-around assets have provided unique opportunities to add value in the Class A office market with the Marina Heights and Hayden Ferry Lakeside projects in Tempe, and the PV|303 industrial project in the West Valley. Sunbelt has also developed some of the Valley's most beloved residential communities including McDowell Mountain Ranch in Scottsdale, Power Ranch in the East Valley, Vistancia in the Northwest Valley, and most recently La Estancia, Sycamore Canyon and Red Rock Village in the Tucson market. In all, Sunbelt has developed more than 50,000 acres of land. For more information, visit sunbeltholdings.com.
To learn more contact White and Carroll with Land Advisors Organization at 520.514.7454.