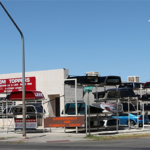 TUCSON, Ariz. – Tom Hunt and Bob Davis, partners in Tango Commercial Real Estate, represented Cook Tucson LLC (Corinne Tso, manager) in the acquisition of the 3,200-square-foot building located at 1702 N. Stone Avenue in Tucson for $190,000 ($59 PSF).
The property was purchased for conversion to a commissary and culinary incubator.
"As these transactions illustrate, Tango Commercial Real Estate works with a diverse range of clients," said Tom Hunt. "We enjoy the thrill of the hunt, finding suitable spaces for our clients whether they are local start-ups or large, out-of-state tech companies looking to expand into Tucson. We know Tucson, we love what we do and we always aim to be our clients' partners in success."
David Gallaher, President of Tucson Industrial Realty, represented the sellers, Steve and Deborah Martin and Jerry Norman who were owner occupants doing business as Custom Toppers.
For more information Hunt and Davis should be reached at (520) 288-1231.