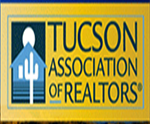 TUCSON, Arizona — The median sales price in May 2017 is up 8.2% over May of 2016, & up 12.18% over May of 2015.
Below are some highlights from the Tucson Association of Realtors (TAR) May Residential Sales Statistics:
Total Sales Volume of $386,081,637 is an increase of 14.68% over April's number of $336,667,709 and an increase of 17.83% over May 2016.
The Average Sales Price of $240,249 increased by 3.12% from last month's number of $232,988.
Average List Price increased 2.63%, going from $239,287 in April to $245,591 in May.
Total Under Contract decreased this month by 0.71%.
Total Unit Sales are up 11.21% from April and 5.10% from May 2016.
The Median Sales Price increased to $195,000 from $190,000 last month and increased 8.94% from last year.
New Listings decreased 5.66%.
Total Active Listings of 3,589 is a decrease of 4.88% from last month and a decrease of 18.58% from last year.
Average Days on Market increased to 46 from 44 last month.
Conventional loan sales of 41.2% exceeded Cash Sales of 24.5%.
For additional information see the following:
More detailed information is available on our website, with statistics going back to 2003.  TAR Housing Statistics Archive  Clicke here: TAR Housing Statistics Archive