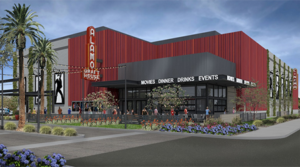 Alamo Drafthouse, Ample Options for Dining, Shopping + Entertainment Expected for $15M, 50,000 SF Development
TEMPE, Ariz. – Prepare for part of Tempe to be completely transformed.
That's the word from DBM Ventures, the developer behind The Collective, a massive, mixed-use project set to take over the NE corner of Rural and Baseline roads in Tempe. Anchored by Alamo Drafthouse Cinema, a combination movie theater-eatery-and-bar, The Collective will offer ample a.m. to p.m. opportunities for shopping, dining, playing and even staying… permanently. In addition to the large-scale, 50,650-square-foot multi-use space, The Harper is a new 367-unit apartment complex from JLB Partners being constructed next door with plans to open this year.
Providing an influx of employment opportunities for residents as well as an array of diverse retailers and dining options for the area, The Collective's first tenants are set to take up shop in early 2018.
"Tempe is increasingly becoming a walkable, bike-able city, and The Collective is going to cater to that," said DBM Ventures' Bret Anderson. "With ample options for public transit and a foot, bike and stroller-friendly design, The Collective will be easily accessible for all Tempe residents."
As such, visitors can expect to find plenty of parking not only for vehicles, but for bikes, at the sprawling property, which will give residents of the surrounding communities a local, pedestrian-friendly alternative to venues such as Arizona Mills Mall.
"It's a 'stay all day' sort of destination," said David Sellers, President and CEO of LGE Design Build who acts as the general contractor for the project. "People want a place they can come to and get it all done with a single stop, and The Collective offers plenty of day and evening options for guests without them having to travel across the city."
Tenants expected to join Alamo Drafthouse will be determined and announced in the coming months, but area residents can expect a range of restaurants, fitness facilities and shopping opportunities targeting visitors of all ages.
"From Alamo Drafthouse Cinema to the new residential – I'm excited to be providing residents and potential residents alike this kind of live, work, play development," said Tempe Mayor Mark Mitchell.
In anticipation of the opening, area residents may sign on to try and win a $500 gift package including a gift card to Alamo Drafthouse, a pair of bikes and a package of dining experiences to use when The Collective officially opens for business. To enter, visit TheCollectiveTempe.com.
"We're thrilled to officially call Tempe home to our second Arizona location," said Alamo Drafthouse's Craig Paschich. "Alamo is going to be a big, welcome change for the area, and we can't wait to be a part it all."
For more about what's to come at The Collective, visit TheCollectiveTempe.com. To inquire about tenant opportunities, contact Trent Goulette of Southwest Retail Group at trent@southwestretail.com.