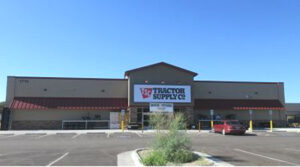 TUCSON, ARIZONA (November 21, 2023) – Cincinnati-based STNL Development bought 3.68 acres at 8535 East Speedway Blvd. in Tucson for $1.35 million ($8.90 PSF).
The lot is zoned C-1 at Speedway and Goebel, west of Camino Seco. The transaction closed on November 13, 2023.
The buyer has submitted plans to the City of Tucson for constructing a 38,900-square-foot Tractor Supply store on the site. This would be the fourth Tractor Supply store in metro Tucson and the farthest east in the Tucson metro area.
Current Tractor Supply stores are located at:
1715 W Valencia Rd, Tucson
7735 N Casa Grande Hwy, Tucson
15884 N Oracle Rd., Oracle, AZ
Ben and Adam Becker, with CBRE in Tucson, handled the transaction for Speedway-Goebel, LLC, Carol Pagman, Manager, the seller, and the buyer.
For more information, Becker can be reached at 520.323.5100.
To learn more, see details at RED Comp #10981.