This article has been archived, please login for access or subscribe now for a free trial.
Since third quarter 2012, investors nationally have continued to exhibit a strong appetite for multifamily properties, a fact borne out by the sales in Pima County for the first half 2013. From duplexes to larger $26 million complexes, it seems that investors are preferring Class-B and -C multifamily properties over other commercial real estate here, and with cap rates ranging from 6% - 8%, what's not to like? These are the final two multifamily sales closing in Q2, links to other significant apartment sales that occurred in Q2 can be found at the bottom of this article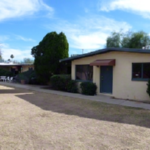 Country Club Court at 2152 - 2156 N Country Club Road in Central Tucson sold for
[mepr-show rules="58038"]
$815,000 ($32,600 per unit). The 25 units were all two-bedrooms / one-bath in six buildings totaling 18,312 sq. ft. (built 1958) of masonry construction on a 1.7 acre lot in the Palo Verde Neighborhood. Amenities included A/C, fenced yards, covered parking, coin operated laundry, a large courtyard and swimming pool. Units were individually metered for utilities. Property has a walk score of 78 and a bike score of 86.
The seller, 2175 Country Club Ave, LLC of Tucson (Rex Verne Casey, managing member) financed with a seller carry back and 20% down.
Lance Parsons of Re/Max Catalina Foothills Realty in Tucson represented the seller. Billy Mordka of Harvey Mordka Realty represented the investor.
In another unrelated transaction. A 15-unit special use multifamily facility at 3701-3709 E 3rd Street in Central Tucson sold in a double escrow. In prior document, Pinnacle Realty Investors, LLC of Tucson (Jarrett Reidhead, Manager) purchased the property for $300,000 ($20,000 per unit) from Tucson Centers for Women & Children, run by the Gospel Rescue Mission of Tucson. In a subsequent transaction the following day, the property was sold to Rio Verde Ventures, Inc. of Tucson (Jeffrey Katz, Manager) for $350,000 ($23,333 per unit).
The property consists of eight buildings totaling 10,198 sq. ft. (built effectively in 1958) on .87 acres. It had seven casitas and a 5,268 sq. ft. motel style building with a shared kitchen designed for the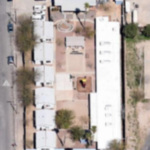 seller that occupied it as a non-profit for temporary accommodations for women and children in need.
The property was vacant when it sold and will be renovated by the local investor for lease and / or resale.
Both Reidhead and Katz are real estate brokers and represented themselves in the transaction.
Parsons should be contacted at (520) 749-6000. Mordka can be contacted at (520) 298-8500.  Reidhead can be reached at (520) 331-8050. Katz can be contacted at (520) 745-4646.
Additional multifamily sales for 2Q:
Mission Palms sells for $25.65 Million
Buying Copper View Video Documented
Vista Catalina Apartments Sell For Repositioning
Smaller Multifamily in Central Submarket for Quarter
Smaller Multifamily in Other Submarkets
[/mepr-show]
Please login for additional sales information.
[ismember] 2152 N Country Club was on the market approximately 4 months, at a list price of $875,000 and a 30-day close. The property was reported selling at about an 8% cap rate and with 2 vacancies at time of sale.
First transaction at 3701-3709 E 3rd St. dated 6/11/2013 recorded in document #20131620473 sold for $300,000. The subsequent document dated 6/12/2013 recorded in document #20131630404 and sold for $350,000.[/ismember]