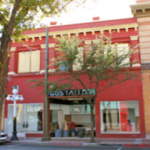 TUCSON, Arizona — Developers Ron Schwabe and Marcel Dabdoub purchased the historic Gus Taylor building at 128 East Congress in Tucson for $850,000 ($124 PSF). Vacant at time of sale, the 6,875-square-foot, 2-story with mezzanine building, built in 1916, sits adjacent to the former Chicago Music Store. The first and second floors of the two buildings were once open and connected.
The building was owned by the same property owner as the Chicago Music Store who sold it several years ago to a recording studio operation, St. Ceceilia Studios, that has since closed and offered the building to Schwabe and Dabdoub.
The ground floor had been renovated as a recording studio, with new electrical and plumbing installed as part of the remodel.
The developers also own the Chicago Music store that is under redevelopment next door with redevelopment assistance from the Rio Nuevo District for 25% of the final project value based on appraisal at completion.
Buyer plans to convert the ground floor at 128 E Congress into a Bar/Restaurant concept for lease and the upstairs into offices.
At its January meeting, the Rio Nuevo Board approved an additional $650,000 for the developers who have already begun remaking the downtown Chicago Music Store into a retail center. Being located within the Tax Incremental Financing District, the board expects to be repaid through increased sale taxes generated by the new retail and pays nothing for the project until the retail is complete and producing revenue.
The board had previously approved $1.4 million for the Chicago Store redevelopment with the same terms and this was in addition for the extended project. The Chicago Music Store building is being gutted and retrofitted for retail and Schwabe expects some stores may be open there by fall.
"Retail is the final piece to the downtown puzzle which began almost a decade ago," Schwabe said. First came the nightlife followed by housing. Now we have nearly 2,000 housing units under construction or planned downtown and retail is the final piece.
For more information, Schwabe can be reached at 520.798.3331 ext. 110.
To learn more, see RED Comp #4582.