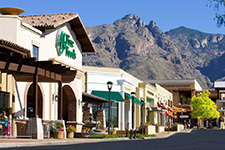 The big news this week was Macerich Co. turning down a $22.4 billion takeover bid by rival Simon Property Group, using some of the state's premier shopping centers referred to as Arizona trophy malls a reason for rejection of the offer.
The proposed deal would have greatly expanded Simon's presence and influence in Arizona, offering an incentive for the Indianapolis-based giant. Another enticement was the quality of the properties, which are more upscale than Simon's centers, Arizona Mills and Phoenix Premium Outlets.
In a statement, Macerich this week said its board determined that the bid of $91 a share "substantially undervalues" the company and would not be in the best interests of its shareholders. Macerich said its real estate portfolio "contains trophy assets of a kind that rarely become available for sale and cannot be replicated. Most could not be built today and substitutes do not exist."
In an investor presentation Tuesday, Macerich highlighted 10 of its trophy malls including three in Arizona. The company included average sales generated per square foot at these locations:
The company's top property is Queens Center in Queens, N.Y., with sales per square foot of $1,088. In Arizona the highest sales generating properties were:
Biltmore Fashion Park, Phoenix, $865/square foot
Tucson La Encantada, Tucson, $733/square foot
Scottsdale Fashion Square, Scottsdale, $732/square foot
Many of Arizona's most prominent shopping centers are owned by real estate investment trusts, or REITs — special stockholder-owned companies that typically pay sizable dividends. Here are some examples:
| | | | | |
| --- | --- | --- | --- | --- |
| Company | Headquarters | Capitalization | Dividend | Arizona malls |
| Brixmor Property Group | New York City | $7.5 billion | 3.3 percent | Glendale Galleria, Northmall Centre (Tucson) |
| General Growth Properties | Chicago | $25.6 billion | 2.2 percent | Park Place (Tucson), Tucson Mall |
| Macerich Co. | Santa Monica, Calif. | $14.6 billion | 2.7 percent | 16, including Biltmore Fashion Park (Phoenix),La Encantade (Tucson), Chandler Fashion Center, Scottsdale Fashion Square |
| Simon Property Group | Indianapolis | $56.8 billion | 2.9 percent | Arizona Mills (Tempe), Phoenix Premium Outlets (Chandler) |
| Rouse Properties | New York City | $1.1 billion | 3.8 percent | The Mall at Sierra Vista |
| WP Glimcher | Columbus, Ohio | $3 billion | 5.5 percent | Scottsdale Quarter` |
(Source: Arizona Republic research)
Macerich does have a hefty stake in Arizona, with 16 malls and shopping centers plus three office parks and other properties. Simon Property Group has only three Arizona properties.
The company also said it generates 17% of its net operating income from Arizona, behind only California (29%) and New York (18%). Macerich actually has more malls and office developments in Arizona than California, with New York third.
Macerich also highlighted some changes to its board structure that could make a hostile takeover more difficult. The company's stock closed down $3.29 a share at $91.60 in heavy trading volume of 5 million shares. The stock has surged from under $70 a share in November, when Simon first announced that it had accumulated 3.6% of Macerich's stock.
"Our board recognizes that, as a competitor, these trends present a challenge for you on multiple fronts," Macerich's Coppola wrote.
Coppola also accused Simon Property of not providing transparent performance results for the company's malls and outlets and said a side deal between Simon and General Growth Properties, a third mall operator, "is problematic and not only stockholder-unfriendly but also raises questions of legality." As part of its bid, Simon said it would sell certain Macerich properties to General Growth, seen as a way to ease anti-competitive concerns.
Coppola's letter follows one issued a week earlier by David Simon in which he outlined the acquisition proposal and complained about not receiving a response from Macerich.
Simon responded immediately, in the latest response, Indianapolis-based Simon Property said it has "outpaced Macerich in virtually every operating and financial category." Macerich is headquartered in Santa Monica, Calif.
Macerich, an S&P 500 company, currently owns 54-million-square-feet of real estate consisting primarily of interests in 51 regional shopping centers. Macerich specializes in successful retail properties in many of the country's most attractive, densely populated markets with significant presence in the Pacific Rim, Arizona, Chicago and the Metro New York to Washington, DC corridor.